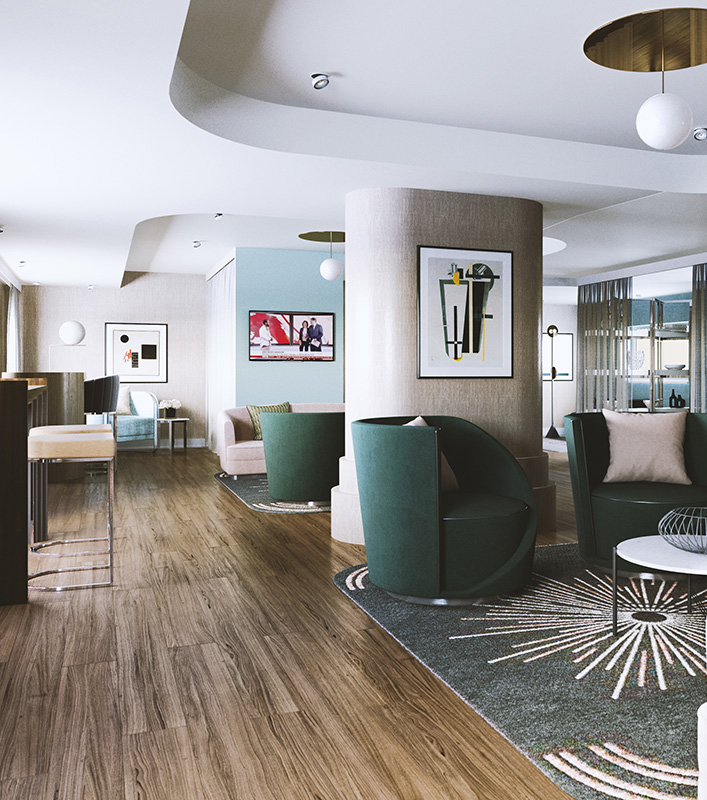 3D interior
visualisation
Perfect, photo-real 3D visualistions of interiors give projects a lease of life way before any actual construction work has started.
3D interior visuals have been placed with actual photography in many brochures and have not been noticeable in terms of quality or realism.
Application
INTERIOR VISUALS AND 3D ROOMSETS
Colour and space explained
It doesn't matter what architectural space it is, from residential room to concert hall to hotel lobby you can guarantee that a 3D image from Red and Gray will be photo realistic and will showcase atmospheric lighting, incredible detail and accurate and intricate textures.
Our interior visuals are set apart from our competitors by the rigorous post production process that each one receives, taking normal 3D visualisation renders to incredible photo real images that easily sit seamlessly next to real world photos and don't look out of place.
From whole room images taking in the panoramic view of the location to detailed and precise close up cameo's of products
the end result is always the same. Aspirational and engaging 3D images that enhance and support your marketing goals.
Our interior visuals can be produced from a detailed interior design that you provide or we can do this for you. The more information you give us, the more accurate and closer to your expectation the final image will be. We have invested in subscriptions to all of the major 3D model libraries online so we are very rarely unable to populate the scene with the latest appliance, décor trend or decorative or lifestyle item.
If you are seeking a dynamic and dedicated team to work on your 3D interior visualisation contact our sales team on 01543 274573 or email sales@redandgray.co.uk
FEATURED WORKS
Powerful and explanatory 3D visuals